In an analytical lab equipped to screen chiral samples across 100+ conditions, you may think achiral screening is left as an afterthought. Think again! Increased demand for achiral purification and a series of complex samples has led us to invest further into this often-neglected area.
Why bother with screening?
Unlike with a chiral screen, initial achiral analysis is likely to produce at least some resolution of peaks on first attempt. So why bother screening further?
Firstly, screening different achiral conditions and techniques provides the analyst with greater certainty that all species are resolved either from each other, or the peak of interest. This gives a truer picture of sample purity.
Secondly, screening may also be necessary in order to develop suitable preparative conditions. Sample solubility, stability and the elution order can all then be taken into account when selecting the best method.
How did we do it?
Historically, our approach was to run a quick screen on our Waters H-Class UHPLC system. Three C18 methods, of differring pH were investigated. This was followed by a screen on our Agilent 1100 – reliable, yes, efficient, no!
Five columns were selected in order to cover the maximum chromatographic space. These included, variations of a C18, penta-fluoro-phenyl (PFP) and phenyl-hexyl (P6). A major benefit of using MeOH and non-C18 stationary phases is that these offer orthogonal interactions to traditional C18 H2O/MeCN systems. The down side is that this screening protocol takes 24 hours per compound. This can create a bottleneck in the process before purification has even begun. However, whilst using 5 µm columns can be more time consuming, it is worth it. Data produced on a 5 µm column is easily scalable for purification, as this is a common particle size for preparative columns.
What's new?
To speed up the screening process and to free up our existing instruments for  routine analysis, we have recently invested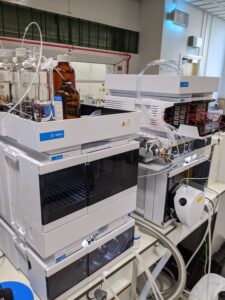 in a new Agilent 1290 UHPLC system.
Our new screen on the 1290 system utilises six buffers and five stationary phases, using both MeCN and MeOH. A single sample can now be screened in full, in less than a third of the time previously required. A single confirmatory analysis on a 5 µm column can then ensure the selected method is scalable for purification.
Of course, SFC screens are also run along side reverse phase to cover further chromatographic space and offer more options for scale-up.
This upgrade has allowed us to increase our screening capacity and reduce the time period between sample arrival and purification.
To discover more about our expertise and technology click here