We're all aware that the best way to fight the spread of COVID-19 is to stay at home as much as possible. In fact, here in the UK we are currently only allowed to leave the house for one of four essential reasons; to buy essential supplies, for a medical need, for daily exercise or to travel to and from work. Even then you should only travel to work if you cannot reasonably work from home. Well, transporting an SFC kit and carbon dioxide cylinders to everyone's back garden/garage/spare bedroom certainly falls outside of what can be considered reasonably possible!
We've also seen that it is CROs where the majority of pre-clinical research will continue to take place over the next few weeks. Although work does not quite carry on as normal, it does indeed carry on. At Reach we've made a few changes that allow us to safely remain open to support our clients through the coming weeks and months.
Firstly, to allow us to comply with the social distancing measures set out by governments and health officials around the world, we've moved to a split shift pattern. Although we have two large laboratories that can easily accom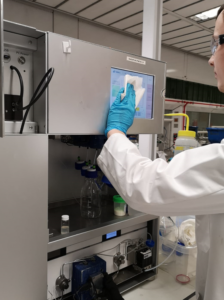 modate our lab team, we realised that 'high traffic areas' like corridors, tea rooms and write up areas, could easily become busy and make it difficult for us to keep our distance. As such, all those who can work from home (and write blogs!) are doing so, whilst the lab team are now split into an early and a late shift. Not only does this help to keep us safe but it also extends the working day and the time we are able to run key kit for. Between shifts we make sure that all the computer equipment and kit has been wiped down, (luckily, we have plenty of iso-propyl-alcohol for that!) along with all door handles and surfaces.
Of course, split shifts mean we're no longer seeing as much of our teammates, so we're keeping in touch using Zoom, with weekly meetings, virtual coffee breaks and more. Phone calls and video conferences are also proving useful for keeping in touch with clients too. Biocity, our landlords, have even introduced virtual yoga and pub quizzes to help everyone on site keep in touch.
Times are certainly strange but the measures we have put in place have allowed us to continue to support our clients both locally and internationally. Who knows, maybe this more flexible style of working will remain popular after things start to return to normal. Maybe Zoom and Skype will help us all reduce our carbon footprint a little too?
If your project requires purification support over the next few weeks, get in touch: https://reachseparations.com/contact-us/